FAQs Acne Treatment
posted: Oct. 23, 2019.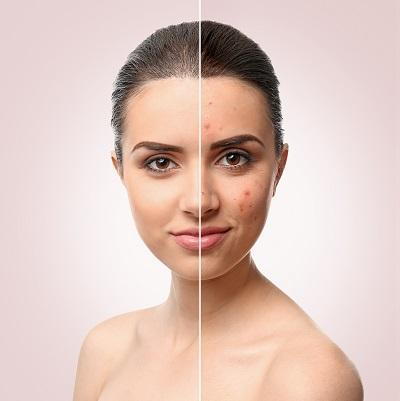 Treating acne isn't always as easy as grabbing an acne treatment from your local pharmacy and getting clearer skin. There is a lot of trial and error when it comes to treating acne effectively. Whether you are just in the beginning stages of treatment or you are feeling frustrated by how to treat your acne, our Sandy Springs, GA, dermatologists understand that you might have questions. Here are some of the top questions about acne treatment.
What causes acne?
When it comes to the development of acne there are several factors at play here. Acne happens when the oil glands cause excess oil production or when the hair follicle is clogged with oil and dead skin cells. Hormones and bacteria can also lead to acne. The type of acne that you have can help our Sandy Springs, GA, skin doctor determine the best course of action for treating the problem.
When should I see a doctor?
If over-the-counter acne treatments aren't alleviating your symptoms, if your acne is severe or if you are embarrassed by your acne then it's time to see a dermatologist who can help you better control your breakouts.
How long do I need to use a product to know whether it's working?
It can take up to 12 weeks for an acne product to finally produce the results you want; therefore, you must be patient. This includes both over-the-counter and prescription topical medications and cleansers, as well as oral medication. Don't give your acne products the boot so quickly.
How can I get rid of a pimple immediately?
Unfortunately there is no overnight miracle remedy or cream that can completely get rid of pimples. While home remedies like tea tree oil and even toothpaste may sound like a quick fix these can often exacerbate acne-prone skin and lead to further irritation.
Is acne genetic?
Genes can certainly play a role in whether or not you get acne; however, it's not the deciding factors. Genes, hormones and your environment all play a role. You can't do much about your genes but our dermatologist can help you get your hormonal acne under control.
Which acne products will work best for me?
This will depend on the type of acne you're dealing with and the severity of your acne. Mild acne may respond to simple over-the-counter products while hormonal acne may best be treated with oral contraceptives. Deep nodules and cystic acne often require a more intensive oral medication to prevent scarring.
Does diet affect acne?
Research has found that what we eat doesn't necessarily affect our acne because acne is often caused by hormonal changes such as puberty and menstruation; however, there is research that suggests that too much dairy could increase breakouts because of the hormones found in dairy products.
Ready to get your acne under control? The team at Atlanta Center for Dermatologic Diseases has offices in Sandy Springs, Roswell, Alpharetta, and Cumming, GA, to serve you better. Call us today to schedule a consultation.
Tags: Acne Treatment