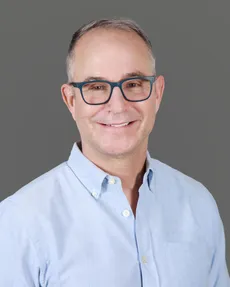 Dr. Ellner is a board-certified dermatologist who, after 30 years, still loves practicing dermatology. He was born and raised in New York City and still has not lost his accent or speed of talk (but he will slow down if asked). After graduating from The Johns Hopkins University with honors, he chose to go south to Houston, Texas and attend Baylor College to study medicine. After graduation, he completed a one-year internship in internal medicine at George Washington University Hospital in Washington DC; then returned to Baylor to complete his residency in dermatology. During his residency he co-authored several academic publications and found a bacterium that is named after him and an associate.
After residency, he helped establish the department of dermatology at Kaiser Permanente in Atlanta, Georgia. During this time, he built a well-respected department, served on the Board of Directors of the Southeast Permanente Medical Group, and was appointed Adjunct Assistant Professor of Dermatology for Emory University School of Medicine. He left Kaiser to join Atlanta Center for Dermatologic Disease and do what he enjoys most, practicing dermatology. He is a past president of the Atlanta Association of Dermatology and Dermatologic Surgery.
Dr. Ellner lives like many native New Yorkers, high in the sky in the center of the city. When he is not taking his dog to the park, Dr. Ellner loves exercising, practicing yoga poorly, traveling, eating out, and annoying Dr. Levine.