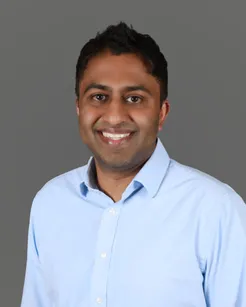 Dr. Sridhar Dronavalli is board-certified in both dermatology and internal medicine. He has training and experience to treat a variety of skin conditions, including skin cancer, acne, eczema, psoriasis, and rosacea. He sees patients of all ages and finds it fulfilling to treat entire families for their skin issues.
Dr. Dronavalli grew up in Snellville, just outside of Atlanta. He received his bachelor's degree in economics and biological sciences from Stanford University. He earned his medical degree from the University of Michigan Medical School. He completed residencies in both dermatology and internal medicine at Georgetown University Hospital/Washington Hospital Center. He is certified by the American Board of Dermatology and the American Board of Internal Medicine.
Prior to moving to Atlanta, Dr. Dronavalli lived in Washington, DC, where he served as an Assistant Professor at the University of Maryland Medical School and was an associate at Dermatology Associates. Outside of work, he enjoys spending time with his wife and two young daughters.